Contact
David Buschart, PhD
Professor of Theology and Historical Studies
Questions?
Denver Campus Admissions
P: (303) 762-6937
Washington D.C. Campus Admissions
MDiv with a Theology Concentration
Is God calling you to a form of pastoral ministry guided by greater theological depth and insight? The Master of Divinity with a concentration in theology will help you think both pastorally and theologically about every aspect of life. Perhaps you see yourself pursuing doctoral studies in theology, but want the broader preparation that the MDiv degree provides.
This concentration blends a superb core of biblical, theological, and pastoral training with the opportunity to go deeper in key areas of theology—both classical doctrines and contemporary theological issues. You'll know how to grapple with theological issues and trends, draw upon the historical roots and development of theology, and understand the nature and methods of the theological process.
How Can I Use This Degree?
Enrich your teaching, preaching, and ministry
Benefit your campus ministry
Prepare for doctoral study in theology
This concentration is available in Denver.
---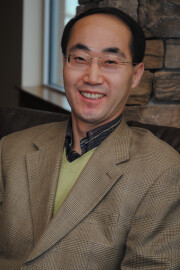 Faculty Highlight
Dr. Sung Wook Chung is associate professor of theology, and director of the Asian Initiative. A native of Korea, he is the author and editor of a number of books in both English and Korean, including Admiration and Challenge: Karl Barth's Theological Relationship with John Calvin and Evangelical Theology, as well as, in Korean, Trinitarian Theology and Spirituality.
For more information about this degree program, please contact the Admissions Office or call 303.762.6937.