Contact
Scott Wenig, PhD
Professor of Applied Theology; Haddon W. Robinson Chair of Biblical Preaching
Questions?
Denver Campus Admissions
Washington D.C. Campus Admissions
MDiv with a Biblical Preaching Concentration
If God is calling you to a ministry of preaching or teaching the Bible as your primary function, those you lead need you to know the Bible and how to share it with them in clear and relevant ways in the 21st century. Whether you intend to minister in the church or a parachurch environment, learning the intricacies of translating truths from the scripture into applications that will matter in the real world is vital.
The MDiv with a concentration in biblical preaching degree focuses on the practical skills of preaching New and Old Testament texts, as well as difficult texts and topics. Best of all, you'll practice your preaching in a positive environment with educated feedback from skilled instructors with years of preaching experience. Hands down, this is the degree you need if your call is to the pulpit or to a leadership position where you'll be regularly teaching the Word.
Through biblical preaching, you can inspire and guide the lives of congregants and others who hear the teachings, values, and transformative power of the Bible. At Denver Seminary, you'll work to connect the timeless truths of Scripture with the contemporary framework of individuals and communities, fostering spiritual growth, understanding, and a deeper relationship with God.
Whether you are new to biblical preaching, or you've been in the pulpit for years, it's important to consider what it really takes to preach well and biblically.
At Denver Seminary, our faculty will help you to ensure that your sermons are not only rooted in Scripture but that your sermons are relevant to the lives of those who hear your messages, so they are able to live out their faith with your guidance. And you'll learn to preach in a way that captivates your listeners and invites, encourages, and energizes them to live out their faith seven days a week.
How Can I Use This Degree?
• Preach, teach, and other forms of pastoral ministry
• Lead a campus ministry in which specific knowledge of the Bible would be beneficial
• Pursue a doctoral degree, advanced research, and teaching
Where is the MDiv Biblical Preaching concentration offered?
Denver campus

How many credit hours is the MDiv Biblical Preaching?
79 credit hours

How long does it take to complete this degree?
3 years (full-time study)
What Courses Will I Take?
For a full list of courses you will take in these programs review our degree worksheet and academic catalog:
---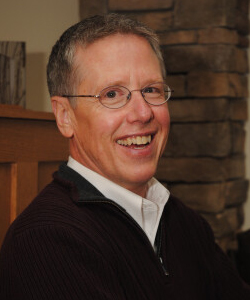 Faculty Highlight
Dr. Scott A. Wenig is Haddon W. Robinson chair of biblical preaching and professor of applied theology. He has over 30 years of experience in direct ministry, primarily serving on pastoral staffs. He has contributed to The Dictionary of Christianity in America, The Leadership Handbook for Ministry, Leadership Journal, Preaching Journal, Preaching Today, and is the author of Straightening the Altars, a study of the English Reformation.