Contact
David L. Mathewson, PhD
Associate Professor of New Testament
Questions?
Denver Campus Admissions
P: (303) 762-6937
Washington D.C. Campus Admissions
MDiv with a New Testament Concentration
The world is changing rapidly and those who are called to engage in regular preaching and teaching roles need to be able to confidently interpret scripture and know how to apply it in their congregations and ministry contexts. The MDiv with a concentration in New Testament will help you evaluate ministry trends, cultural shifts, and current events in light of sound biblical theology. You'll learn to teach from the original text and engage culturally and cross-culturally with a biblical perspective.
Specifically, this degree provides the opportunity for greater focus on biblical languages, hermeneutical/interpretive methods, and a deeper exploration of issues in modern biblical scholarship that impact ministry and Christian living.
How Can I Use This Degree?
Preach, teach, and engage in ministry of all kinds
Lead and advise parachurch ministries on how to evaluate trends in ministry and the world
Evaluate the strengths and weaknesses of Bible-based arguments of controversial debates in the Church
This concentration is available in Denver, Washington DC, or fully online.
---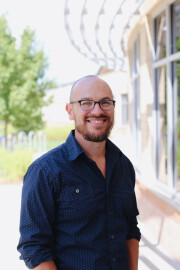 Faculty Highlight
Dr. Joseph (Joey) Dodson joined Denver Seminary in July 2019 as an associate professor of New Testament. Dr. Dodson received his PhD in New Testament from the University of Aberdeen. He has written articles for journals such as Novum Testamentum, Catholic Biblical Quarterly, and the Journal for Jewish Studies. His most recent books include A Little Book for New Bible Scholars with E. Randolph Richards (2017) and a co-edited volume with David E. Briones, Paul and Seneca in Dialogue (2017). Dr. Dodson's current research includes a Romans commentary in the Brill Exegetical Commentary Series and a Colossians-Philemon commentary in The Christian Standard Commentary Series. Dr. Dodson comes to Denver Seminary after having served at Ouachita Baptist University since 2008.