Contact
David L. Mathewson, PhD
Associate Professor of New Testament
Questions?
Denver Campus Admissions
P: (303) 762-6937
Washington D.C. Campus Admissions
Master of Arts in New Testament
Do you feel called to a ministry of scholarship and teaching? The master of arts with a major in New Testament provides you with the necessary competence in the Greek of the New Testament and an introduction to biblical Hebrew, hermeneutics, exegesis, history, culture, theology, critical research, and global readings. Collectively, this enables you to confidently teach and write in a variety of church and adult education contexts. If you are interested in a PhD program, the MA (New Testament) degree is excellent preparation for that.
How Can I Use This Degree?
Prepare for a PhD in New Testament Studies
Develop Bible education curricula
Serve as a speaker
Provide biblical teaching in para-church, campus ministries, and adult education contexts
Author grammars and other Bible helps for scholars
Quick Facts
Available in Denver and fully online
Complete in 2 years (full-time study)
What Courses Will I Take?
See each course you will take in these programs by reviewing our degree worksheet and academic catalog:
Degree Worksheet | Academic Catalog
What are the Program Requirements?
Bachelor's degree from a regionally accredited undergraduate institution
Cumulative undergraduate GPA of at least 3.0
Completion of the application for admission and all required application documents
For more information about this degree program, please contact the Admissions Office or call 303.762.6937.
---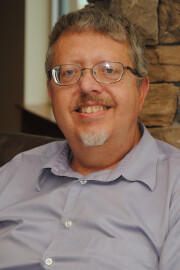 Faculty Highlight
Dr. Craig L. Blomberg joined the faculty of Denver Seminary in 1986 and is a distinguished professor of New Testament. Dr. Blomberg completed his PhD in New Testament, specializing in the parables and the writings of Luke-Acts, at Aberdeen University in Scotland. He received an MA from Trinity Evangelical Divinity School, and a BA from Augustana College. Before joining the faculty of Denver Seminary, he taught at Palm Beach Atlantic College and was a research fellow in Cambridge, England with Tyndale House.
---
Next Steps