Contact
Hélène Dallaire, PhD
Earl S. Kalland Professor of Old Testament and Semitic Languages; Chair of Old Testament Department
Questions?
Denver Campus Admissions
P: (303) 762-6937
Washington D.C. Campus Admissions
Master of Arts in Old Testament
Are you called to a ministry of scholarship and teaching? The master of arts with a major in Old Testament provides you with the necessary competence in the Hebrew of the Old Testament and an introduction to biblical Greek, hermeneutics, exegesis, history, culture, theology, critical research, global concerns, and key cognate languages. In addition, you will develop your own exegetical skills as you study texts in their original language and move beyond elementary Hebrew. This degree will prepare students for faithful ministry and help you gain expertise to teach and write in a variety of church and adult education contexts. Additionally, if you are interested in doctoral program studies, the MA (Old Testament) degree is excellent preparation for that.
How Can I Use This Degree?
Prepare for a PhD in Old Testament Studies
Develop Bible education curricula
Serve in Christian ministry as a speaker or ministry leader
Provide biblical teaching in campus ministries, school, and adult education contexts
Author grammars and media sites that accurately express the Bible's teaching
Where is the Master of Arts (Old Testament) offered?
Denver campus / Fully online at the Global campus

How many credit hours is the Master of Arts (Old Testament)?
51 credit hours

How long does it take to complete this degree?
2 years (full-time study)
What Courses Will I Take?
See each course you will take in this program by reviewing our degree worksheet and academic catalog:
Degree Worksheet | Academic Catalog
About Our Faculty
The Old Testament faculty members are world-class scholars. Collectively, they've published dozens of books and hundreds of journal articles; they act as supervisors of countless dissertations and theses, and serve as editors on major journals, monographs, and Bible translations. Not only are they academically at the top of their game, but they also value pouring into students' lives outside the classroom through connecting over coffee or during a run on the historic Platte River Trail.
For more information about Denver Seminary graduate programs, this online degree program and admission requirements, please contact the Admissions Office or call 303.762.6937.
---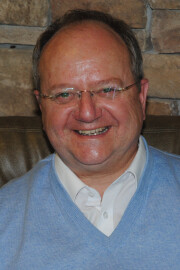 Faculty Highlight
Rev. Dr. Knut Heim, Professor in Old Testament, joined the faculty in 2016. He is a Presbyter (an ordained minister) in the Methodist Church of the United Kingdom. He is a member of The Society of Biblical Literature, The Institute of Biblical Research, The Society for the Study of the Old Testament (UK), and The Tyndale Fellowship (UK). His vision is to help students discover the Old Testament as a resource for ministry and an inspiration for life.
---
Next Steps